same old kings... just more xanax.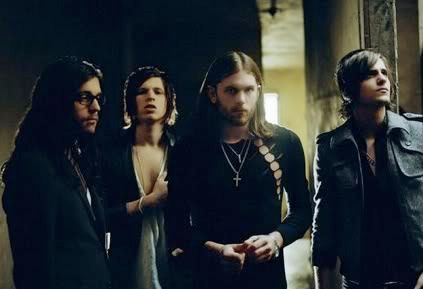 my love of
kings of leon
goes back quite some time. believe me. so i had extremely high expectations for their newest album,
because of the times
. the 7 minute opener, "knocked up", sets the tone for the entire album... arrogant. caleb's vocals sound more aged than ever (and by aged, i mean awesome) over a steady, continuous beat. in comparison to their previous releases,
youth and young manhood
in particular, the album is hardly "dancy" at all. in fact, i can't recall hearing any tamborine this time around just off the top of my head. additionally, there are very few wailing guitar solos, which is something i associate with them. one exception is "black thumbnail" where caleb belts out, "...now guitar, go guitar!" and they completely cut loose.
because of the times
is a step back in time for the kings by focusing mainly on vox and drums. it's very reminiscent of the early caleb/nathan country duo thing they had going on back in the day. but with skills like theirs and those followill genetics to match, they are completely entitled to be arrogant. i love this album more than life. it drops on 4/3 and you can pre-order it
here
. do it.
mp3: kings of leon - "my party"
(my favorite)
mp3: kings of leon - "charmer"
on a sidenote- here are some quotes from the
badly drawn boy
show last night:
"it sounds like the british sister hazel.""i'm so bored.""i feel like i'm at the clermont for karaoke.""wait, there's really an encore?""you know it's bad when the best song of the night was a journey cover."